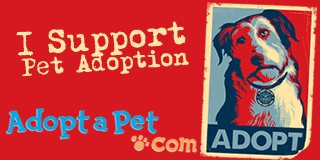 Shepard Fairey, the artist who produced the iconic Obama HOPE poster (and the official inauguration poster) recently placed in the national portrait gallery of the Smithsonian and used for the Dec. 29 cover of the TIME magazine has produced the same image with a shelter dog, and with the word ADOPT!
The art has the Adopt-a-Pet.com name on it (on the dog's tag), so everyone who sees it will know where to go to find your adoptable pets.
This image is getting a lot of attention and hope it will bring even more awareness to the need to adopt shelter pets!
Be sure to check it out at
http://www.muttslikeme.com/
!